The new Microsoft Edge developed with Google Chrome code is now available for free download. The browser, which extends compatibility beyond Windows 10, can now be downloaded, since last Wednesday (15), also by users of Windows 8, 8.1 and discontinued Windows 7, in addition to Apple's macOS. The version for Android and iPhone (iOS) also gets an update.
Microsoft's program has access to Chrome Web Store extensions, plus privacy functions and improved performance. On the other hand, some features of the old Edge no longer exist and there are few visual changes beyond the renewed logo. Here's what changes and how to download the update.
The browser mixes features that already existed in Edge with basic functions of Chromium, an open-source version of Chrome made publicly available by Google. As a result, although it's the first release, the program already comes out in version 79. New editions will be released periodically every six weeks, following Chrome's update schedule.
Among the features supported are Internet Explorer mode, to open old sites, and Application Guard, to access pages in a secure environment. On the other hand, features that were hardly used have been dumped, such as read mode and screen prints annotation tools for sharing.
Extensions
The main new feature of the new Edge is the support for a much larger number of extensions. Several famous Chrome plugins are already available in the Microsoft store and can be downloaded immediately with the same functionality found in the Google browser. Items that are not yet airworthy can be obtained directly from the Chrome Web Store, provided the user enables installation on Edge. According to Microsoft, some Chrome extensions that are based on Google account login may not work.
Read: 10 Essential Extensions for Google Chrome Browser
Privacy, Collections, and Bing
According to Microsoft, the new Edge focuses on privacy, with a three-level identity blocking mode that is activated by default. In addition, the company ensures that Bing navigation and searches conducted in private mode are not assigned to the user. The company's search engine comes integrated and offers rewards for those who use it as a standard tool.
Another new feature is the Collections function, which allows you to create kits of pages saved as a group. The feature is not available yet but should arrive soon in the next updates. The list of main features also includes support for 4K streaming and Dolby audio, as well as PDF annotations directly from the browser.
Performance
The change in code makes Edge compatible with both sites and apps that run well on old EdgeHTML and Chrome, covering virtually any site and webapp on the Internet. Although it shares the same basic code as its rival, Microsoft ensures that the new browser is twice as fast.
Preliminary analysis of specialized sites can't point to a ratio of this magnitude, but the speed of navigation has been pleasing. In addition, the new Edge would have the ability to consume less RAM than Chrome, something seen as the main problem with Google's browser. In tests conducted, Edge consumed about 3% less RAM and 66% less CPU than Chrome when opening the same set of eight tabs.
How to download the new Microsoft Edge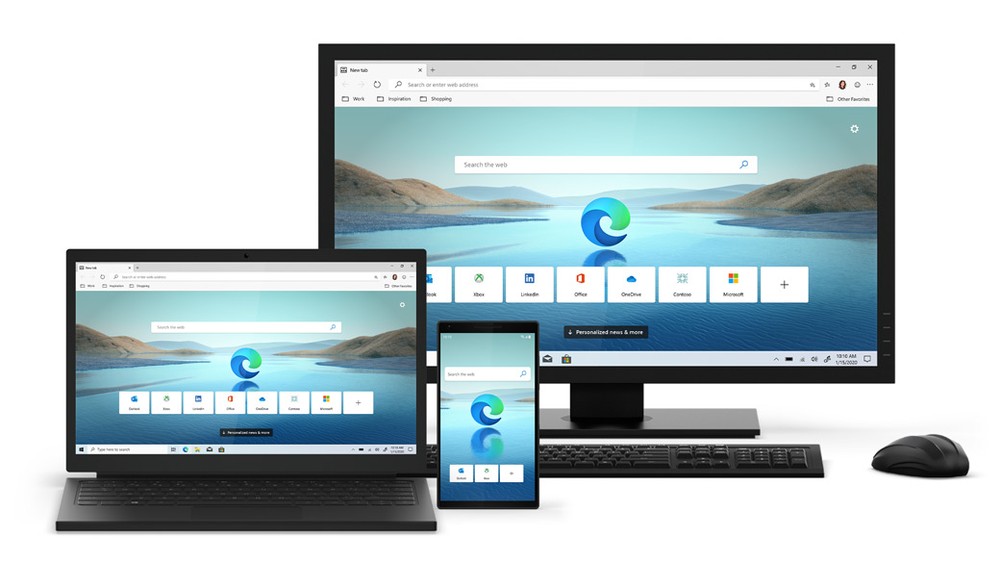 The free download of the new Edge is available at microsoft.com/edge for Windows (7, 8, 8.1 and 10), macOS, Android and iPhone (iOS). On Windows 10, the download replaces the old Edge on your computer. Soon, the new version will be mandatory and included in future operating system updates. It is necessary to download manually on older PCs, Mac and mobile phones – unless users already had Edge installed, which receive the update automatically.