Protecting your privacy while surfing the Internet may seem difficult, but there are several tools available to prevent the tracking of your data. Considering the controversies of marketing data on the deep web, collected through the use of popular search engines such as Google and Yahoo, it is important to preserve your identity on the network and avoid slippage. Services such as alternative search engines, VPN networks, and temporary email accounts are some of the alternatives to protect yourself online. Check below for the most important tools to use the Internet without leaving traces.
1. Use VPN applications
One of the best ways to protect your privacy on the Internet is to use VPNs. The acronym stands for "Virtual Private Network". This type of service restricts access to the credentials of computers and devices on a given network. Thus, these devices can connect through a restricted access communication network, which keeps the data exchanged between them more encrypted and secure.
Because of this, VPNs have several advantages in addition to privacy protection. Because they restrict access to the source of the connection used, they can be used to access streaming services that are not available in a user's original IP region.
Despite all these advantages, attention must be paid to the risks offered by free and unlimited VPN services. Some of these risks are the transmission of malware, theft, and sale of data, and even the use of ransomware attacks, which prevents the user from accessing their device until a ransom is paid to free the device or system.
Therefore, the best VPN options are still paid. There are several outstanding options on the market, such as Private Internet Access, F-Secure Freedome VPN and NordVPN. There are also options offered by antivirus services such as avast – SecureLine VPN.
2. Accessing sites only through anonymous browsing
Anonymous browsing, a function present in most browsers, prevents data from being recorded in the browser's history. This navigation mode can be activated in browsers such as Safari, for iOS, for example, as well as in browsers such as Mozilla Firefox. The function is also available in Chrome for mobile, both in its Android and iPhone (iOS) versions.
It should be noted, however, that there are many myths regarding the use of anonymous browsing, both on desktop and mobile. This mode of browsing is useful mainly to prevent the registration of data in the browser's history, in addition to preventing many ads. Also, since it prevents the customization of searches on some sites, the anonymous browsing mode can help, for example, in the search for cheaper products.
However, anonymous browsing does not make the user completely invisible. Since the user's IP is still active, the Internet server, as well as mass surveillance agencies, continue to have access to user actions in virtual space.
Read: 7 Tips To Protect Your Online Data and Information
3. Use browser with a tracker blocker
A useful tool for protecting online privacy are browsers with tracker blockers. This type of browser features a tool that blocks ads used by companies like Facebook, which protects user data and makes browsing faster.
One outstanding product is Firefox Focus, a Mozilla browser whose version for Android phones was launched in July 2017 with the promise of increasing the privacy and security of its users. This browser, whose iPhone version had been released in 2016, reached the number of 1 million downloads already in the first week of launching its version for the Android system.
4. Use temporary e-mail for logins
Preserving your primary email account for spam is an important strategy in the virtual environment. Therefore, free temporary email options are increasingly common, which can be useful for testing services without compromise and keeping your primary account anonymous. The services can offer different benefits to the user.
Sharklasers allows you to modulate different domains in your temporary email, but it does not offer a response or forwarding possibilities. The 20 Minute Mail service allows you to send text messages and also images. One of the sites with a more accessible interface is Temp Mail. Finally, a service that stands out is Air Mail, which allows you to customize an address and then access a special inbox via a URL.
Also Read: 27 Telegram Bots that Can Help You on a Daily Basis
5. Avoid Google or Yahoo
Avoiding some of the major search engines is an important strategy to protect your privacy on the Internet. Although they are very popular, Google and Yahoo search engines have a long history of controversy over the privacy of their users. In Google's case, the search engine stores information about its users with each direct search, such as cookies and IP addresses.
Besides, the search engine uses its user search history to display ads. Due to these widespread aspects of search engines, there are increasingly rivals to search engines like Google, such as Qwant, StartPage, and DuckDuckGo.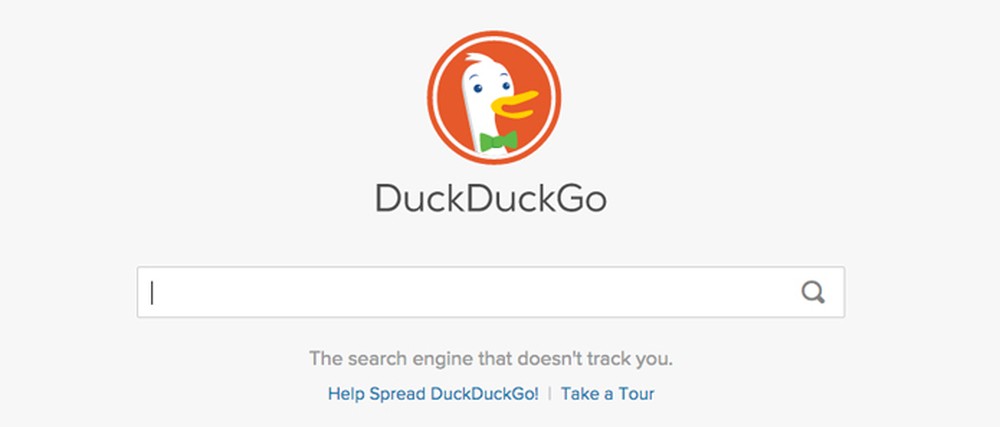 A prominent alternative to search engines like Google or Yahoo is DuckDuckGo. This search engine stands out for its promise of greater privacy, which helped it reach the mark of 30 million direct searches per day in 2018. Another differential of the search engine is the lower occurrence of ads on the site.
Besides being available for standard browsers such as Firefox and Chrome, DuckDuckGo can also be accessed on tablets and cell phones with iOS and Android systems. According to the privacy policy disclosed by the company, the service does not use cookies and does not record the IP data of its users.