Editing images and photos to share them on social networks, or simply retouching a photo that hasn't turned out the way you expect, is very common. Many tools allow you to retouch all kinds of images from the comfort of your PC. Photoshop is the best software for this, but it has the disadvantage that its price is very high. That's why we have looked for 10 software similar to photoshop online and free.
Pixlr Editor
Pixlr is for many users the best alternative to Photoshop online that you can use for free. It is easy to use and includes many advanced editing tools, such as cloning and color replacement, which are usually found in paid software. You can use the major image file formats, including PSD in Pixlr and export in JPG, PNG, BMP, and even your PXD layer format.
As for the interface, it looks elegant and has several tools, brushes, and filters that you can easily find. There are options for layers and masks, automatic and manual color adjustments, etc. One thing that can bother you is the ads that take up a lot of screen space, but that's what you'd expect from a free application.
Polarr
Polarr includes a variety of filters and options for editing photos and images online. Advanced options include luminance adjustment tools, lens distortion, stain removal, and healing brush, as well as other tools for repairing facial imperfections in photos.
You can save images in batch mode in three quality and dimensional settings, for platforms such as Facebook, Instagram, Twitter, Pinterest and more. It offers a complete YouTube channel that will guide you step by step to achieve a certain effect.
Read: Best Free Antivirus Software for Windows 10
Photopea
Photopea is another web-based photoshop alternative that is full of advanced tools. Unlike other online image editors, Photopea is an HTML5 web application, so it runs easily in any popular web browser, without the need to install plug-ins such as Flash.
You can find a great set of brushes and color editing tools, filters, layers, blending modes and procedural settings for brightness, hue, saturation, convolutions, etc. There are also advanced text editing tools for banner and poster design.
Sumopaint
The next free Photoshop-style editor is Sumopaint. Although it has limited options compared to Photoshop, it has a similar control panel with options to choose colors, add layers, apply numerous filters and effects to images. The free version supports the native SUMO format along with PNG and JPG, which is sufficient for web graphics.
Fotor
Fotor has a very clean user interface, as well as some options that are very appreciated by newcomers to the world of image editing. It's a good online image editor for fixing portraits, as it allows you to fix defects, remove wrinkles, use the cloning tool and much more.
Other features such as special effects, face and body enhancement, frames, stickers, and text editing add an artistic touch to the image. To add some professional-level stuff, you can try Lens Flare, Film Grain, Color Splash and Tilt-Shift.
BeFunky
The main attraction of BeFunky is its simplicity, which is not normally seen in photo editors on the web. The website is interactive, so you only have to select and apply the filters and effects from the toolbar.
This website also offers a dedicated Collage Maker for making beautiful collages and a design tool for creating fully customized graphic designs. BeFunky offers free stock photos, fonts, and art vectors to help you design great designs.
Lunapic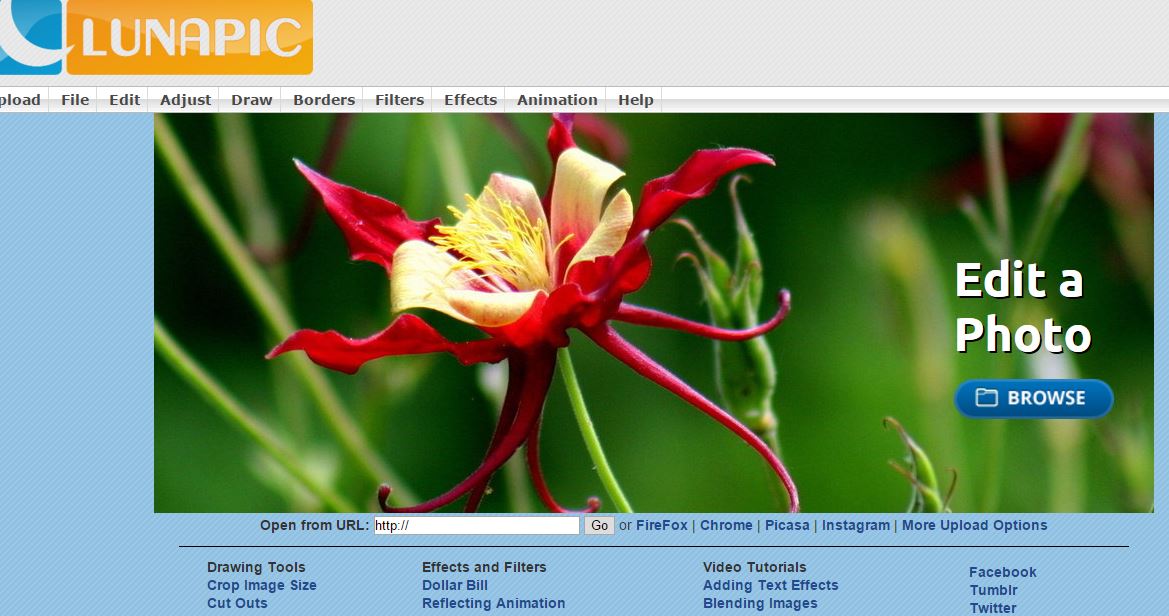 Lunapic is one of the best free Photoshop alternatives on the net that you should use to edit images without paying anything. The navigation menu is comparable to the famously paid photo editors and offers a lot of options of effects, filters, art, animation, etc.
Also Read: 5 Free Apps to Convert Your Photos to Cartoons
Don't underestimate the text-based menu selections and the simple looking grayscale theme. Some of the effects are simply amazing, and you'll have to try them to understand how good they are.
iPiccy
Like many of the free Photoshop editors, iPiccy also requires the Flash plug-in to run the web application. Once you provide it, the site is easy to use and has a layer-based editor that is fast and responsive.
iPiccy offers a variety of basic and advanced edits with dedicated controls for settings, colors, filters, effects, etc. There's a set of portrait retouching tools that remove wrinkles and even apply makeup to enhance facial features.
Ribbet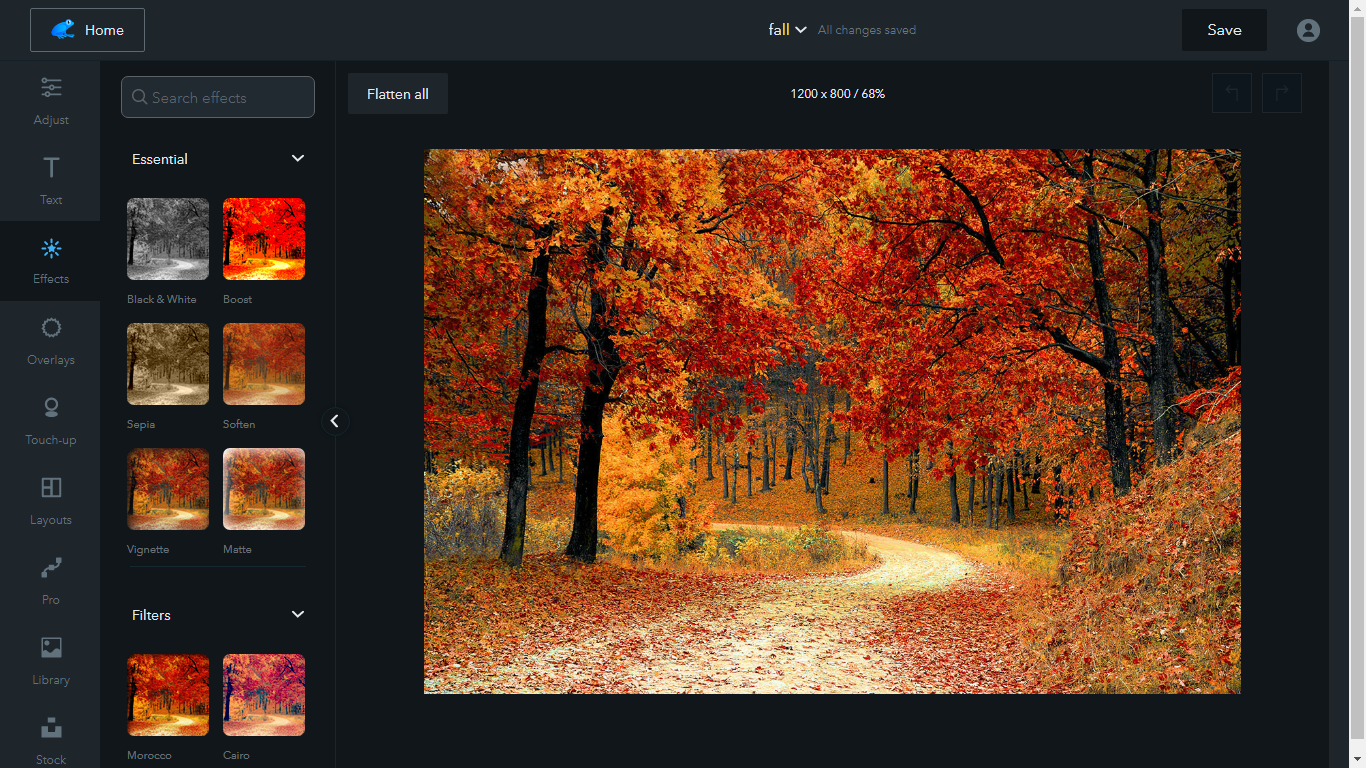 Ribbet is another easy to master online photo editor for beginners. Although it can't be seen as a complete alternative to Photoshop, it offers the most used features and does a good job in image editing.
There is a convenient option to size the photos specifically for Facebook, Twitter or YouTube and optimize the image quality for printing. Also, it offers many stickers and frames that can be searched through the in-app search box.
FotoJet
FotoJet is an ideal option to start with graphic design. This program allows you to apply quick enhancements to your photos without the need for experience in image editing.
If you are looking for software that includes the basic tools for editing, effects, overlays, frames, text, and clipart, FotoJet will meet your needs. FotoJet also offers access to the Google clipart library for free, which is great for getting started quickly.